Our why is

simple,

we focus on

proven methods

to improve your animal's health.
Hi my name is Sue and we may have met through the treatment of your four legged family via herbal medicine or perhaps I treated them using modalities such as acupuncture, shiatsu, bowen therapy or iridology.
I may have been your lecturer many years ago when you leapt into the wonderful world of animal naturopathy, massage, herbal medicine, anatomy and physiology or nutrition. You'd remember me as the teacher who arrived with cakes in one hand and anatomy in the other so that we could have fun while we experienced learning both on paper and hands on… while eating cake.
If I haven't yet had the pleasure of meeting you yet, please let me tell you a little about myself.
I am an Equine and Canine Naturopath and Nutritionist and I also have qualifications in Small Animal and Equine Oriental Medicine and Acupuncture, Shiatsu, Bowen Therapy and Iridology.
I founded a dried herbal medicine business that I ran for 14 years before selling it and am thrilled to have done it all again for our pure herbal liquid extract business "Animal Naturopathics". This area has formed an enormous chunk of my life and it seems that I just can't live without it!
After meeting my soul mate and having children, I started studying to be a Naturopath and before I knew it my study became quite an obsession. I completed numerous courses and endlessly researched treatments, I travelled to the UK and Europe to treat horses and dogs, I was lecturing several subjects and I ran a very successful business. I soon realized that with passion, drive and hard work that you can steer yourself in any direction that you desire, I did exactly what I chose to do…. albeit with a few little hurdles along the way.
Exactly a year after selling our business of 14 years, I sustained what was later confirmed to be a "mild" brain injury/concussion.
Over time I lost many cognitive functions such as speech, short term memory, proprioception, my ability to read and write and cook. Some days my speech would be normal for a few hours but some days I would stutter, have no ability to find words and following a conversation was beyond me.
I had no idea of what was happening around me.
Those were the days where I hid away from the world and as a result, I made sure that nobody would see or speak to me… I was so ashamed of who I had become.
On a bad day, my husband would ask me the question of 'whether I would like a cuppa' and I would cry because I just didn't know how to answer his question. BUT… if he mentioned a horse that was suffering from gastric upset, I had the ability to speak and I had the insight to explain the treatment!
Suffering from neural fatigue meant that I slept for hours during the day and had no energy to do almost anything. The physical injuries I sustained meant that I had surgery and needed time to heal. I assumed I would recover after a couple of months and never would have believed that more than two years later I would still be seeing my speech pathologist weekly to work on my short term memory loss. If I tried to move on with my life and I would regress and lose function for days, weeks or months. It seemed hopeless, even for a stubborn person like myself.
I started gardening… and then started getting back into herbal medicine and yes you guessed it, I even started treating animals again. For me, this was definitely the turning point in my recovery.
I now have a new understanding for animals with head injuries, with poor proprioception (foot placement and where they are in time and space) and have not only dived back into herbal medicine… I took time to swim down to the bottom and explore the boundless possibilities. I discovered that when you're frantically treading water and have lost control, there is still hope and when that glimmer appears that you have the choice to grab it with both hands and thrive on it.
I have absolutely no words for how grateful I am to have the opportunity to be doing what I love and I am beyond chuffed with myself for my ability to find words, speak words and write words that make sense.
If you're still reading, thank you. I realise what you have read is a bit raw and pretty personal, but I feel happy that we are now acquainted. I also wanted you to know that my love for what I do goes way beyond what I would call a job!
Take care of yourself,
Sue Martin
Animal Naturopathics
Our Philosophy
In recent years a high percentage of people around the globe have opted to take a natural and holistic approach to their health.
The removal of chemicals, preservatives and additives and the addition of fresh, whole and organic foods now comfortably walks hand in hand with the use of natural medicine.
Almost two decades ago, Sue started formulating herbal blends and treatment plans using the same principles but for animals with astounding results.
At a time when the acceptance of herbal medicine for animals was quite poor, the more than favourable outcome of the animals that were transitioning to a natural diet and herbs brought about much curiosity and excitement of what could be.
It wasn't long before a herbal medicine for animals business was established and over the following 14 years, Sue lectured in the areas of Animal Naturopathy, Herbal medicine, Nutrition, Pasture management, Anatomy and physiology and Myofunctional therapy and graduated in the areas of Animal Acupuncture and Oriental Medicine, Shiatsu, Bowen Therapy and Iridology.
The constant study, dedication and further development of the treatments for animals gained the respect of Veterinary practitioners and Animal practitioners alike.
With so much interest, Sue offered regular presentations for owners and travelled to the UK and Europe where she continued to educate owners about the simple, cost effective and incredible health benefits associated with offering their pets a natural lifestyle along with the use of herbal medicine when needed.
With many years of experience and the need to continue to help the animal world, we are proud to be offering our new herbal range.
This time we have opted for pure herbal extracts with 75-80% being fresh plant tinctures that have been grown in Australia. We pride ourselves on providing only the highest quality.
The development of products and treatment plans are ongoing which means that our journey is far from over.
Want to join us? We would love to be a part of your pet's journey too.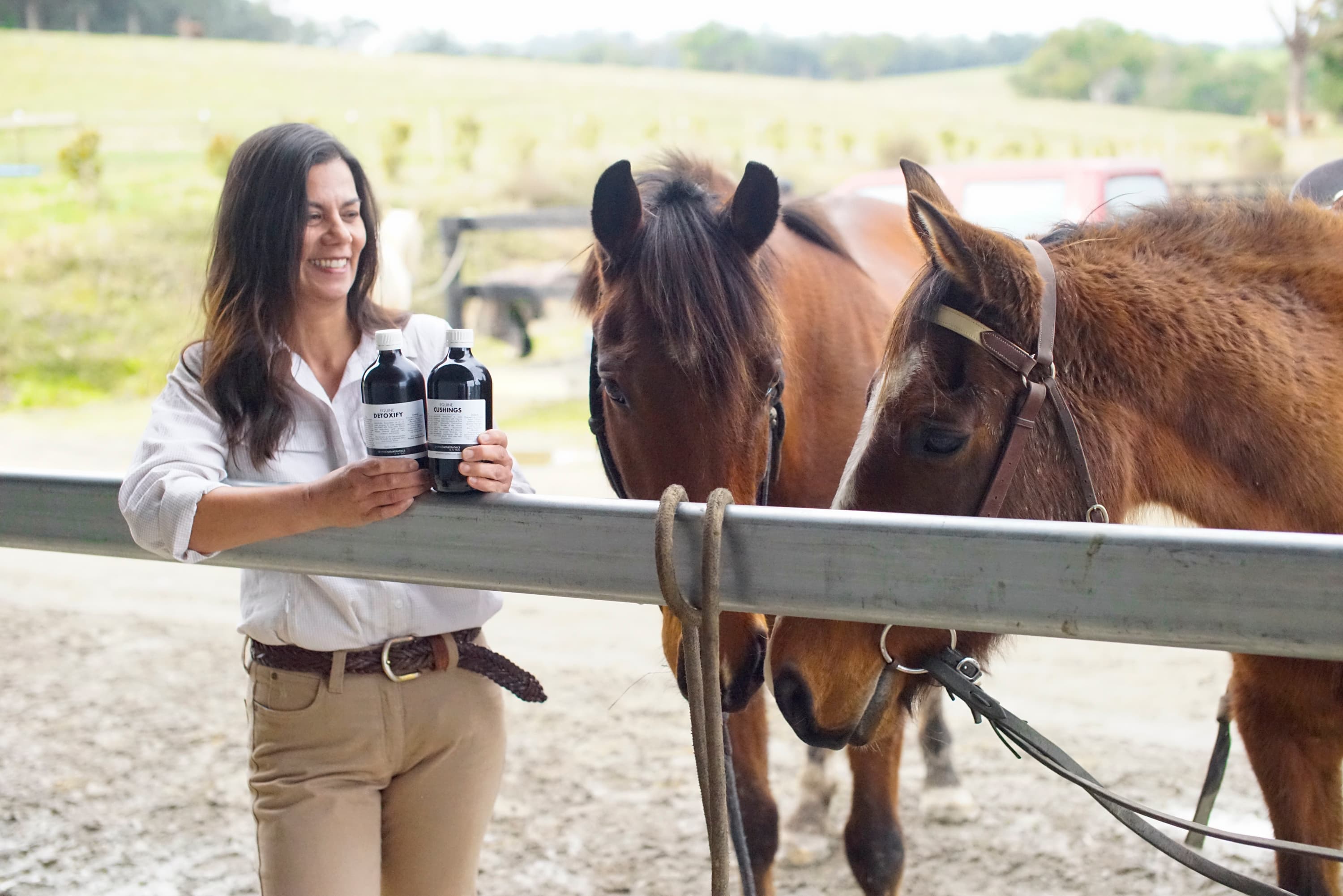 Want to be friends? Join Sue